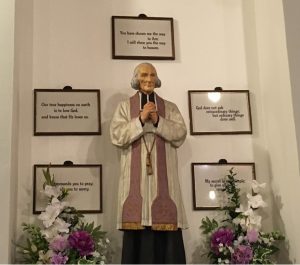 It was on 19th September 1949 that Bishop Marshall wrote to Fr Burscough at St Peter's setting out his wish for a new parish and the case was strengthened as in the 1950s there were housing developments in the Cherry Tree, Green Lane and Livesey areas of Blackburn. It was decided that a mission church would be desirable. A number of meetings were held and around 1959  the first mass was said in a workman's hut on the building site of a new Catholic  school St Monica's  on Green Lane. The mass was celebrated by priests from St Peter's, though Fr Casey said his first Sunday mass on 6th September 1959 in the hut. Fr Casey initially lodged with Mr and Mrs Finn at 15 Fielding Crescent.
Later a house at 85 Green Lane  was made into a rectory.  After obtaining the approval of the Bishop, the large upstairs bedroom was used as a place to celebrate mass. Within three days the chapel was full and Fr Casey had to take the door off its hinges so that those outside on the landing could see inside more easily. Fr Casey continued to use the workman's hut for confessions and Sunday mass with two services thought to be at 8.30 and 10.30.  On Saturdays a group of volunteers cleaned the hut and arranged seating and on Sunday afternoon removed the seats to enable it to be used by workmen.
In 1961, Fr Slevin from St Peter's transferred £1000 from his funds to assist with the development of the new parish. On 26th May 1961,  land was purchased on Livesey Branch Road and on 5th September work commenced on building a new church /hall which was opened as St John Vianney on Sunday August 12th 1962, the mass being celebrated by Fr Casey with the hall blessed and opened by Rt Rev. George Beck Bishop of Salford. He was appointed the first priest of the separate parish dedicated to St John Vianney.  This building is still in use today as the parish hall.
In February 1964 Sunday mass was celebrated in the Fernhurst Hotel on Bolton Roa, Ewood for local residents.  There is a picture of this at the rear of the church. Fr Casey retired in March 1981 and the following month Fr Kirkland was appointed the parish priest. Later that year on 13th December  the current building was blessed and opened by Rt Rev. Thomas Holland the Bishop of Salford. The silver jubilee of the opening was celebrated therefore on 13th December 2006.
Fr Casey died on 26th May 1990 and his requiem mass took place on May 31st.
The church was consecrated and dedicated by Rt Rev. Patrick Kelly the Bishop of Salford. The next change of priest was in September 2003 when Fr Kirkland retired, with Fr Griffin appointed to replace him in November 2003. Fr Kirkland died in March 2005.