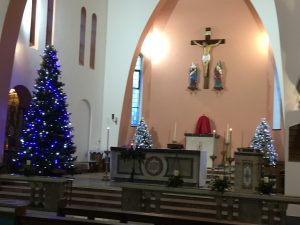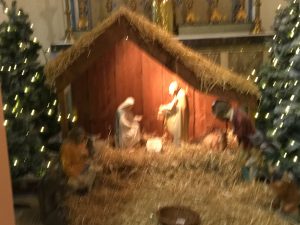 A full programme of servicers over Christmas has been prepared and starting on Tuesday Dec 17th there is Mass at St Peter's at 10. as there is a funeral at St John Vianney at 11. at 6pm there is a carol concert at St Peters with the school children.
Wednesday December 18th has mass at 10 in St Paul's school which is the end of term mass. and at 7pm there is a carol concert led by the school in the Priory.
Thursday has the usual mass at 10 at St John Vianney and on
Friday 20th St Peter's school have their end of term mass in the church at 10.
On Saturday there are confessions during the exposition of the Blessed Sacrament from 11 until 11.45 am.The weekend masses are at the usual times and then in Christmas week on Monday 23rd mass is at 10. in St Peter's.
On Christmas eve there is mass at 10 in St John Vianney followed by confessions from 10.30 until 11.30.
CHRISTMAS LITURGIES
Christmas Eve St Peter's at 4pm                        St John Vianney 6pm       The Priory  at 11.30 there are Carols leading into Midnight Mass at 12.
Christmas Day    St Peter's at 9am           The Priory 10-30am.
Boxing Day there is mass at  St Peter's    12 noon
Please note that there will be no exposition or confessions on Saturday December 28th.
New Year's day   St Peters    12 noon  A later mass to encourage as many as possible to come and join us for the start of a new year 2020.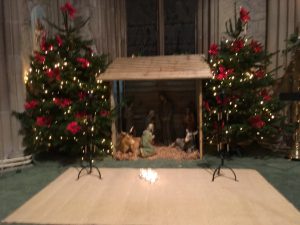 Pope Francis has spoken and written about the wonderful sign and tradition of having a Christmas Crib in the home and in public places. "Dear brothers and sisters , the Christmas Crib is part of the precious and demanding process of passing on the faith. Beginning in childhood, and at every stage of our lives it teaches us to contemplate Jesus , to experience God's love for us to feel and believe that God is with us and we are with Him thanks to the child who is the Son of God and son of the virgin Mary."
Fr Braiden writes " Wow! What a busy year its been…..Incredible things have happened this year , the special 200th anniversary at The Priory , and St Peter's has been beautifully decorated.We give thanks to God for all that has been done and accomplished , and for the work undertaken by so many. Parishoners and friends helping things to run along smoothly , unseen and un heard they have got on with it and that is what makes our parish fantastic and a place that it welcoming. Thank you to everyone who carries out those everyday things whose input can be taken for granted., Opening the church and locking it, setting up for mass, lighting candles, filling them up, cleaning, flower arranging, collectors ta mass, counters and bankers, Eucharistic Ministers, Readers, servers, offertory helpers, putting hymn books back, Our Paid Organists, or simpoly to you for attending!. Over the past year you have made our parish the place it is now….Thank You.
Without your support things would not be achieved or accomplished, so I hope I can count on all that continued support in 2020. …
What a New Year brings nobody but the Good Lord knows but if it's for His Glory then it will be good. Change does happen and sometimes its difficult but it's Gods kingdom we are striving to build up. May you all have a blessed New Year.